Symbaloo lesson plan
1. What is Symbaloo lesson plan?
Symbaloo is used by thousands of schools to organise all online resources and tools. Symbaloo now has a new product called Lesson Plans. With Symbaloo lesson plans, teachers and lecturers can develop their own digital lessons tailored to students. Each lesson plan consists out of a learning route with different types of content: text, images, video, games, tests…. As a teacher, you can create these lesson plans yourself, but you can also use already existing lesson plans. While a pupil or student goes through your lesson plan, you as a teacher can access the corresponding statistics to closely follow the learning process of the pupils.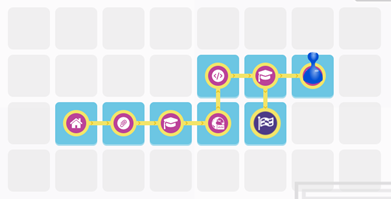 2. How can Symbaloo lesson plan make learning more personalized?
Not every student works at the same speed, some need extra explanation while others need extra challenge. That is why Symbaloo lesson plan offers the possibility of developing personalised learning routes. Every student must follow the learning route of your lesson plan, but the way in which the student follows this route can differ. For example, by adding a question to the lesson plan, you can immediately test whether the student has understood the subject matter. If the answer is right, the student continues straight through the learning route, but if the answer is wrong, you can offer an extra path in the learning route. For example, a student with a wrong answer gets additional explanation/support based on his/her answer, before returning to the main route. This means that you can develop the same learning route for your whole class, while the route can be adapted to individual students (Whether for extra explanation or extra challenge).
In addition, as a teacher you can see the statistics of the students in the central dashboard. This gives you immediate insight into how long someone has been working on each step, which questions were answered incorrectly or correctly and who needs extra support.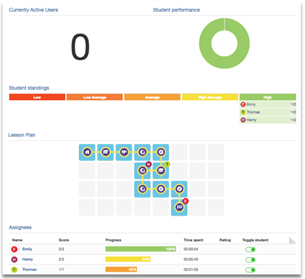 3. What to consider when implementing Symbaloo lesson plan?
To work with symbaloo you need a device that gives you access to the internet. You can choose between mobile and fixed devices: laptop, desktop, smartphone or tablet. With the Lesson Plans Viewer app, students can learn on the go from their mobile device. However, you need to bear in mind that an internet connection is always required to work with Symbaloo lesson plans.
Currently symbaloo lesson plan is available in english, spanish and dutch. You do not need to buy a licence or any other kind of add-on, because this application is free. This means that you can immediately explore the possibilities yourself!